The crypto market is developing at a large scale due to digitalization and technological development. Many people daily start trading in cryptocurrencies. However, even today, the most common question beginners ask is cryptocurrency a scam or legitimate.
Cryptocurrencies are digital money developed based on blockchain technology. Like forex market currency, It can be used for online purchases, trading, investing, and other reasons.  
There are more than 23000 cryptocurrencies; as per a report, more than 43 million people trade in cryptocurrency.
Is cryptocurrency illegal?
Cryptocurrencies are legal or illegal, depends on your county. In countries such as Australia, Switzerland, the U.S., Canada, and the U.K., cryptocurrency is legal, and in countries such as China, Nepal, Morocco, etc., cryptocurrencies are illegal.
Is cryptocurrency a scam?
No, cryptocurrency is not a scam. Many countries have legitimate cryptocurrencies as a medium of exchange. However, no central authority or government issues or regulates these digital coins.
As a result, many crypto scammers and fraudsters are present in the market who take advantage of innocent traders and steal their money.
Crypto Frauds are malicious activities well-designed or organized by scammers to lure investors or traders with unrealistic and fake promises to steal their funds.
Due to the decentralized nature of cryptocurrencies, they are banned in many countries, and even in the countries where they are legal, the rules and regulations are very limited.
So if you become a victim of cryptocurrency fraud, getting your money back will be impossible due to a lack of regulations. 
As per a report, traders lose 14 billion dollars yearly due to scams in cryptocurrency. It is a fact that cryptocurrency gives a huge return and a trader cannot stop investing in digital currencies.
However, they can educate themselves about popular scams and their features to identify Is cryptocurrency a scam or not.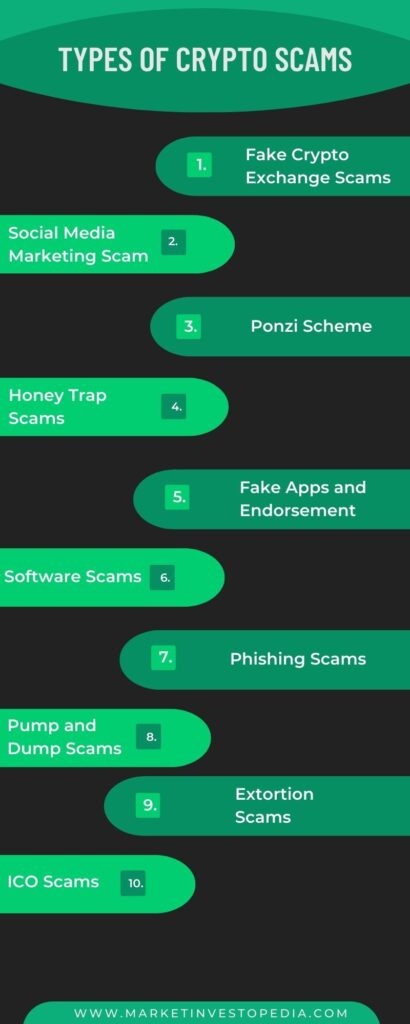 Fake crypto exchange scams: One of the most popular frauds is creating a fake crypto exchange that looks like a genuine platform. These platforms are so well designed that even an experienced crypto trader needs help distinguishing them.
Under this scam, they use false crypto products, wallets, and exchange platforms to lure the trader. These platforms also claim to provide major cryptocurrencies such as Bitcoin and Ethereum at 80% of the market price. Once you subscribed to such services, you ended up losing money.  
Social Media Marketing Scam: These days, people are smart. Before investing in digital products generally, traders analyze the social media platform to avoid crypto investment scams.
However, scammers also use social media marketing tactics to lure investors. They keep their social media pages, such as Instagram, Facebook, and Twitter, up to date. Even they also have a well-designed and up-to-date website. So it became easy for traders to believe in such scammers.
Ponzi Scheme: Another scam that become popular in the crypto market is the Ponzi scheme. These scammers take money with traders or investors in the name of investing in the crypto market.
However, they are not investing their money in the market but making payments or profits to the old client from the money they have received from the new client. Eventually, the scheme collapsed, and investors lost their money. 
Honey Trap Scams: Romance scams are becoming increasingly popular in the crypto market. Generally, they hired people to chat with traders and speak with them for a long period.
Once they became friends or when people started trusting these scammers. They started encouraging them to invest money in the crypto market by showing manipulated data. Generally, traders believe them and start putting money in the market. 
Fake Apps and Endorsement:  One of the most important steps to find out is cryptocurrency a scam or not is to analyze the legitimacy of the crypto platform.
Many scammers create fake apps to lure traders. The app provides all the features and services a genuine platform has, and they also use celebrities and famous people to promote the platform.
Traders and investors generally believe in advertisements because celebrities are promoting and lose their money. So it is essential to verify the exchange platform.
Software Scams: These are popular crypto scams in which scammers use software and technology to develop a fake cryptocurrency or lure traders by showing manipulated crypto trading data generated by a system.
In some cases, hackers develop software to steal sensitive information or have access to traders' private keys to steal their crypto holdings. 
Phishing Scams: Another popular Bitcoin investment scam is phishing. Under this process, scammers generally create a website and ask for private keys and other important information to provide free crypto signals or customer services.
They also use emails, telegram groups, and other platforms to contact traders. Once you have shared details with them, they stole crypto from your wallet. 
Pump and Dump Scams: It is a group scam in which fraudsters from a community to manipulate innocent traders. They create a campaign over social media platforms such as Telegram, Facebook, or emails that the price of specific crypto increases or decreases.
It created a panic amongst traders. They started selling it at lower prices or buying it at higher prices and became the victims of scams. Manipulating trading data in cryptocurrency is a scam common in the market.   
Extortion Scams: You might get shocked, but in the market, blackmailing and extortion also take place to steal the crypto. Under this, blackmailers claim that they have access to the activities of traders or records of their illicit activities.
They threaten traders to share their vital private details; otherwise, they will expose them. Generally, people get panic and share sensitive information with scammers. 
ICO Scams: Initial coin offering is to raise funds for companies using cryptocurrencies. It is popularly used by bitcoin scammers. Under this scheme, the platform offers discounts for sending cryptocurrencies such as Bitcoin and Ethereum. 
However, many ICO are booked for luring investors with fake offices and companies. Some companies closed over the night resulting in a big loss of investors. The best way to identify is cryptocurrency a scam is to check the authenticity of the ICO.
How to identify fake cryptocurrency
Analyze the Platform: The first and foremost way to identify a crypto scam is to analyze all the social media platforms and websites. Check whether the contact, address, and other important information are available on the website.
Generally, scammers develop the website but do not specify the address or give fake addresses. Also, check whether the information available on social media platforms is true.
Read Reviews: One of the best ways to spot crypto fraud is by reading reviews on Google. Generally, the people who the scammers deceive write negative reviews about them and reveal their identity.
Also, check the platforms' previous performance and their claim about the success rate and client satisfaction. 
Unrealistic Return: Many platforms claim unrealistic high profit or 100 % guaranteed return. However, remember there are no such things in while trading in crypto.
Crypto scammers use such false promises to lure traders. Due to traders zeal for earning high profits, traders became prey to such scammers and lost their hard-earned money. So if you find the platform's services too good to be true, there are high chances of it being a scammer.
Aggressive Sales Tactics: Generally, scammers use aggressive sales tactics and pressure to make traders invest the money as soon as possible otherwise, they lose a golden opportunity or an exclusive discount.
However, do not become the victim of such aggressive tactics, and take your time. You are putting your hard-earned money in the market. So, don't rush and take decisions wisely. 
Analyse White Paper: A white paper document is published for traders and investors to read about blockchain technology and how the entire system works. Generally, a white paper is well-designed and consists in-depth explanation.
However, in the case of fake cryptocurrencies, the white paper has been badly written with inaccurate and incomplete information. So carefully inspect the white paper.
There are various currency trading strategies for a trader to select in the
forex market
. The best strategy in Forex trading depends on the requirement of the individual, like time frame, decisive nature, etc. Even the best forex trading strategy cannot give a trader full-proof results. There are chances of losses even after the effective implementation of the currency strategy. However, a trader can reduce the chances of loss by using a proper plan for trading a currency pair.
Share The Post with others