Traders have made tons of money by investing in cryptocurrencies such as Bitcoin, Ethereum, etc. Due to higher returns, people's interest in the crypto market is increasing. However, people usually don't know in which currency to invest. In this article, you will learn about the top 10 cryptocurrencies in 2023, which help you find the best crypto to invest in.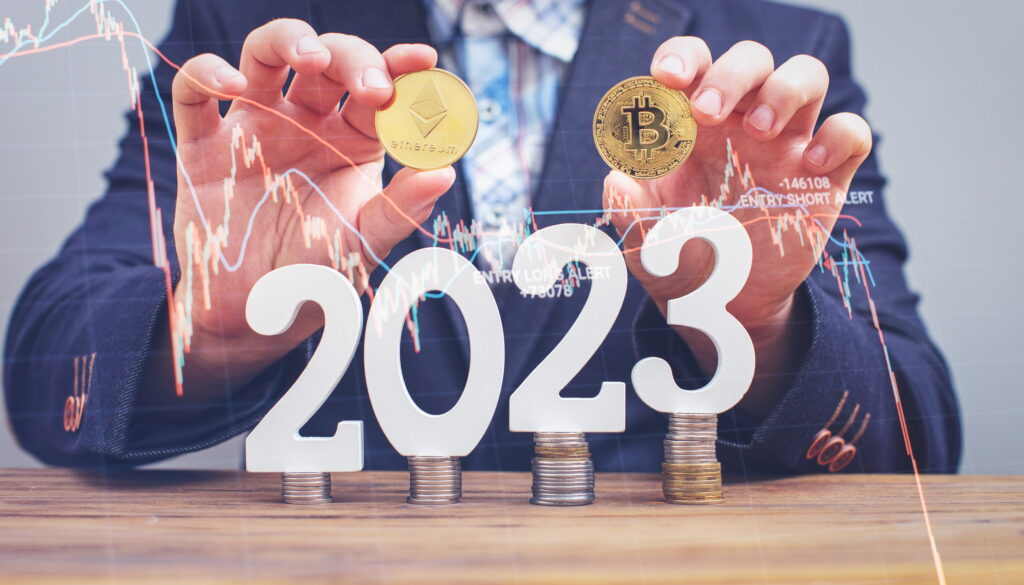 What are cryptocurrencies?
Cryptocurrencies are digital currencies or coins used as a medium of exchange in a decentralized market over the chains of computers.
Central banks and government do not issue or regulate these digital currencies. Some people also believe that cryptocurrency will replace paper currency or centralized currency soon. 
That is the reason why the interest of people in cryptocurrency trading is increasing. Trading in cryptocurrencies is simply buying the crypto whose value will increase against another forex currency or cryptocurrency and vice versa.
The main motive behind cryptocurrency trading is to take advantage of the price fluctuation of digital currencies. Let's have a look at the crypto trading example. 
At the start of 2020 price of one bitcoin was 6,965.72 USD, and at present, the price of one bitcoin is equal to 26,902.7 USD which means if you purchased a bitcoin in 2020 and sold it in 2023, then you will make a profit of 19937 Dollars.
In the above example, we have understood how one can make a whopping amount of money in the cryptocurrency market. Indeed investing in cryptocurrencies for 2023 is very profitable. 
Top 10 Cryptocurrencies in 2023
There are more than 23000 cryptocurrencies. Now the question is how will a person identify in which currency to invest? Not to worry, we have prepared a list of the best cryptocurrencies for 2023 with their distinct features to invest your money.
Bitcoin (BTC): Most expensive digital currency  
Bitcoin is the first and oldest in the cryptocurrency list, introduced in 2009. It is the most expensive currency and is also regarded as digital gold.
Bitcoin is very popular and expensive due to its demand and supply ratio. Similar to gold trading, it has a limited supply, meaning a maximum of 21 million coins can ever be mined.
So the supply is limited, which makes it the most demanded digital currency. However, like any other asset, it is also suspected to the risk and frequently changes which means the price may gradually increase or decrease.
In 2016 the price of one bitcoin was around 500$, and at present, the price of one bitcoin is 26,902.7 USD which means the price increase is almost 5280%, that's very high growth.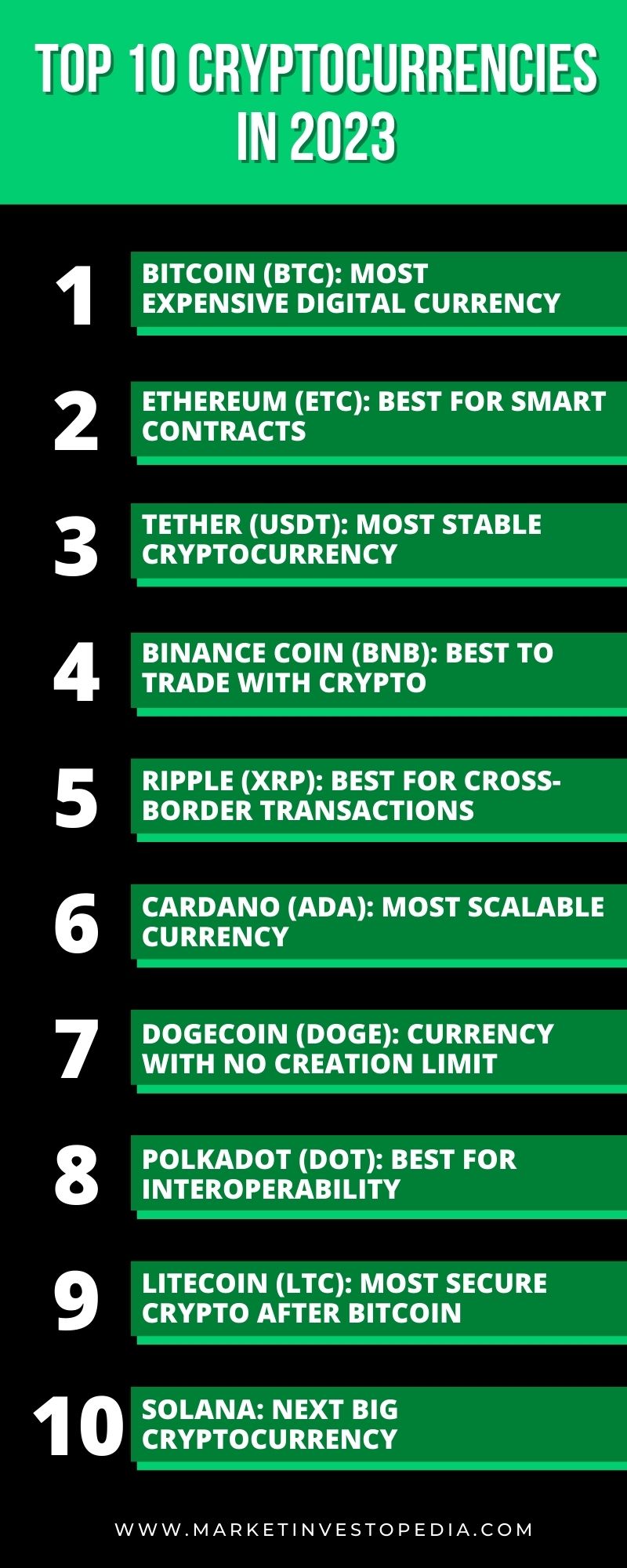 Ethereum (ETC): Best for smart contracts  
Ethereum was launched in 2015. The best part about this is it also provides a platform to enable smart contracts and decentralized applications. These smart contracts are automatically executed based on predefined crypto strategies. 
The second most popular currency in the list of 10 best cryptocurrencies is Ether by Ethereum. Ether is also used as a medium for the payment of goods and services or for commodities trading, similar to forex currencies. It means you can pay bills and fees with ether on the platform. 
At present, one ether is equal to $ 1857.19. Ethereum has upgraded to its network called Ethereum 2.0 to dissolve the current network and scalability issues.
Tether (USDT): Most stable cryptocurrency 
Tether is the most stable currency among the 10 top cryptocurrencies. It was launched by a company named Tether Limited. Similar to centralized currency, it is also a fiat currency.
It means that the company maintains the value of the gold reserve or forex currencies equal to the total tether currency. The value of tether is comparatively stable because the company's primary aim is to allow people to exchange goods and services using it.  
Due to its stability, it's the least risky of all. So if you don't want to take the risk, the tether is best for you. The currency value of one tether is equal to one USD as per the current rate.
Binance Coin (BNB): Best to trade with crypto 
You may have heard of Binance exchange, the largest and most popular platform for cryptocurrency exchange, and Binance Coin is the cryptocurrency launched by this platform in 2014. 
Even in a short period, this crypto has seen incredible growth. The best part about Binance coin is that you can trade and pay fees on the platform.
The platform offers exclusive offers for using Binance coin; as a result, traders started using it. Due to this strategy, it has become the most profitable and best cryptocurrency to invest in. At present, one Binance coin is equal to 313.51 USD.
Ripple (XRP): Best for cross-border transactions  
Ripple is one of the most popular crypto in the top 10 cryptocurrencies in 2023. It was launched by ripple network in 2012. The main aim of the network is to facilitate low-cost global transactions. 
The best part about XRP is that, unlike other cryptocurrencies, it is more centralized, which means more regulated, and the reason is its ties to fiat currencies. The price of XRP against US Dollars at the time of writing this article is $0.4612.
Cardano (ADA): Most scalable currency  
Cardano is among the most sustainable and scalable among the top 10 cryptocurrencies to invest in. Like Ethereum, Cardano also enables its users with smart contracts and decentralized applications. 
What makes it different from other crypto is that it works to reduce transaction time, reduce energy usage and remove environmental impact. 
Due to its mechanism, it verifies new transactions and records them on blockchain technology that serve as proof of transaction validation. The best part about this is that it develops its technology based on research and reviews. 
Dogecoin (DOGE): Currency with no creation limit 
If you are looking for the next big cryptocurrency, dogecoin is probably the best. You might be shocked, but dogecoin was started as a joke. 
A creative meme made dogecoin the popular crypto. It was founded in 2013, and its founder claimed that he made crypto within two hours. However, this joke caught all the attention, and since then, dogecoin's value has rapidly strengthened.
One of the significant setbacks of dogecoin is unlike any other crypto; there is no limit of issuing dogecoin. So trading in dogecoin can be risky for traders.
Polkadot (DOT): Best for interoperability.
Polkadot is the answer if you are wondering which crypto to buy for long-term trading. It was launched in 2020, and within a short period, it has seen significant growth.
It provides its user with a decentralized platform that helps transfer assets in different blockchains known as parachains. That is the reason why it is known as the blockchain of blockchain. 
Dot holders can participate in the governance of networks, staking, and bonding of tokens.
Litecoin (LTC): Most secure crypto after Bitcoin
Litecoin is another popular currency in the list of top 10 cryptocurrencies in 2023. The features of Litecoin are similar to Bitcoin, and therefore, it is regarded as the silver of crypto trading. 
It facilitates faster transactions that too at a low cost. Similar to Bitcoin, litecoin also has a supply limit of 84 million. It will never issue more than this number. 
You can use Litecoin for online purchases and payments without any mediators. As of 23 rd May, one litecoin is equal to 91 Dollars.
Solana: Next big cryptocurrency 
Solana is the fastest crypto to process transactions quickly. It uses a smart contract and an app to record the transaction history and runs a mechanism for proof of stake. 
Due to its distinctive features, its value is increasing rapidly, and it may become the most popular crypto in the upcoming years. It was launched in 2020, and as of May 2023, one Solana equals 19.42 USD.
The cryptocurrency market is one of the best platforms to earn a massive profit in modern times. However, as these are decentralized currencies and does not regulate by the government, the risk involved in crypto trading is also huge. 
Selecting the best cryptocurrency to invest your money in is a crucial step. You have to first learn how to trade in crypto. After this, you need to select a digital currency considering your investment amount, risk factor, and suitability.
You can select any crypto from the top 10 cryptocurrencies in 2023 that suit your need. Remember, careful selection is a must; otherwise, it will affect the result.
Share The Post with others